[The LeMans is a two-seater concept car that Cadillac built in 1953, to exhibit at the Motorama and similar displays. A total of four were built. One was destroyed by fire in 1985; one disappeared after 1953; and two are known to survive. Both of these were displayed at our show. Based on their build order, the two survivors are #3 and #4. #3 is the white LeMans, pictured above left, owned by Scott Milestone, and it remains essentially unchanged from its original form. #4 is the silver LeMans, pictured above right, owned by the General Motors Heritage Center, and it was substantially restyled by GM in the late fifties.]
On the weekend of October 25-26, 2008, the Potomac Region held its annual Fall Car Show event at Capitol Cadillac in Greenbelt, MD. This year's theme was Cadillac Dream Cars and featured four special cars from the GM Heritage Collection in Michigan and two privately-owned dream cars. As a thank you to region members who donated $200 or more to help cover the expense of transporting the GM cars to Maryland, a special reception was held at the dealership the night before the show to preview the collection, which included a 1903 Model A runabout, representing the very first year of Cadillac production; the 1956 Maharani, a special Series Sixty Special nicknamed the Kitchen Sink Cadillac; the 2002 Cien, a V-12 powered concept car developed to usher in Cadillac's 100th anniversary; the 2003 Sixteen, a rear-wheel-drive V-16 emulating custom-built Fleetwood coach cars of the 1930s; and both of the remaining 1953 LeMans, a two-seater concept car that was one of the stars of GM's Motorama traveling show of dream cars. Four LeMans were built, and only two are known to exist today. LeMans #4 is owned by the GM Heritage Center and was substantially restyled by GM in the late fifties and fitted with a new motor. LeMans #3 is owned by Potomac Region member Scott Milestone and has not been available for public viewing in over 20 years. No one knows for sure when, if ever, two LeMans were together at the same event.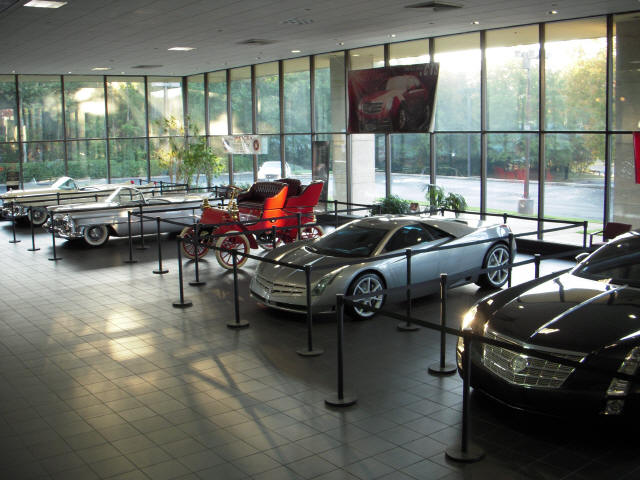 From left to right:
1953 LeMans #3, 1953 LeMans #4, 1903 Cadillac, 2002 Cien and 2003 Sixteen
Photo by Daniel Jobe
The 1956 Maharani, one of the show cars displayed at the Motorama at the Waldorf-Astoria Hotel in New York, was brought to the show from New York by Josh Modlinger, the current owner. This car was factory modified with a host of new-for-1956 kitchen appliances where the passenger side of the front seat would normally be: hence the nickname. By the way, the word "Maharani" is the female version of "Maharajah", who was of course a ruler of India, and the exquisite interior trim in this car reflects the motif of Far Eastern design, or at least Cadillac's concept of what Far Eastern design would look like.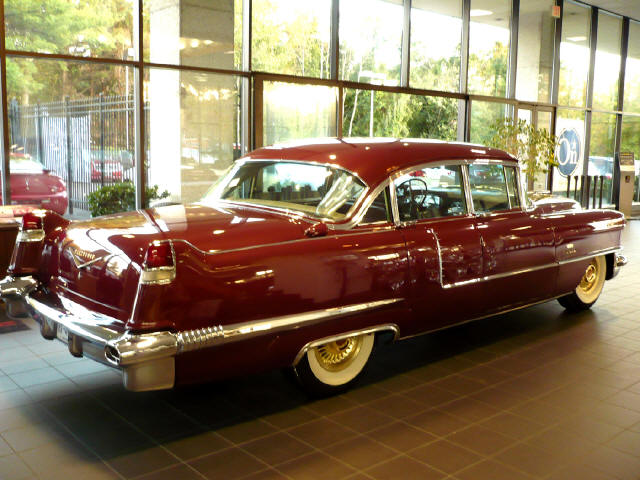 1956 Cadillac Maharani, a special Series Sixty Special
nicknamed the Kitchen Sink Cadillac
Top photo by Charles D. Barnette
Bottom photo by Dan Reed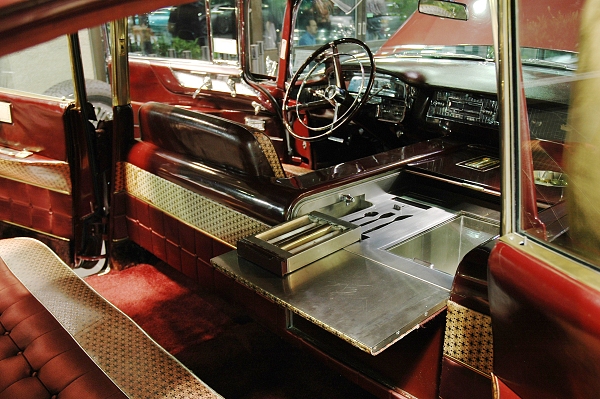 Having had the role of researching the 1953 Cadillac LeMans' stories for David Temple's book GM's Motorama, there was no doubt in my mind that I would attend this event. During the research, David and I uncovered two important documents to unravel the four complex stories of LeMans. The first was the Bill of Sale dated December 1, 1984, between John Crowell of Pleasanton, California, (new buyer) and D. A. Thomas of Dayton, Ohio, (with agent Fred L. Miller acting on behalf of Thomas). The serial number in that document proved we were concerned here with LeMans #1 (serial number 02) which was the first LeMans. This car was the Motorama car and the one sold to Harry Karl who had it customized for his wife, actress Marie McDonald, by George Barris. Unfortunately, the car was totally destroyed by fire in 1985.

1953 Cadillac LeMans #3
Photo by Dan Reed
The second document uncovered was a title issued by Washington, D.C. to Floyd Akers (founder of Capitol Cadillac and grandfather of Daniel Jobe, present owner of Capitol Cadillac) dated 8-12-1955. The serial number of this document proved that the document was dealing with LeMans #3 (serial number 04). We already knew that LeMans #4 had been built for Bud Goodman of Fisher Body and is now owned by the GM Heritage Center. That left LeMans #2 (serial number 03) unaccounted for and last seen in late 1953 in Oklahoma City, Oklahoma, on display at the Greenlease-Moore Cadillac dealership.

1953 Cadillac LeMans #4
Photo by Dan Reed
While dealing with the history of the first LeMans, Mr. Fred Miller named above gave me items from the car that were accidentally left behind when the car left Ohio for its "fatal home" of California. These items included four silver chrome knobs (tops) for the four levers on the dash of LeMans operating the two vents, temperature and defrost. When I came to Greenbelt, Maryland, on Saturday, October 25, 2008, I brought these items with me.
Aside from seeing the superb LeMans sisters (numbers 3 and 4), the beautiful 1956 Maharani show car, the historic 1903 Cadillac, the "Centennial" Cien show car, and the fabulous Cadillac Sixteen, three major highlights occurred for me at the show that I simply must share in writing.
Eighty cars were at the show including Byron & Alida Alsop's 1936 V-12 Series 85 Convertible Sedan (Best in Show and Ladies' Choice), Richard Sisson's 1954 Eldorado (Best Post-War), Tom Smith's 1941 Series 75 Limousine (Best Pre-War) and Frank Pinola's 1954 Eldorado (Dealer's Choice). Other notable cars included a 1940 LaSalle 4-Door Convertible, a 1953 Eldorado, and a 1973 Series 75 Limousine used by First Lady Pat Nixon.
Spectators from 20% of the states attended the show, including four CLC Vice Presidents and three CLC Region Directors; David Temple of Texas, author of GM's Motorama; Jim Jordan, Motorama enthusiast from Oklahoma; and Jack Frank of California, who is recreating LeMans #2 in steel. It was an unprecedented Cadillac historical weekend that I was proud and honored to be a part of. I want to give special thanks to Vince Taliano, Diane & Henry Ruby, Richard Sisson, Richard Sills and Daniel Jobe. The Potomac Region and Capitol Cadillac of Greenbelt, Maryland, are simply the best! I want to additionally list for special thanks Scott Milestone, owner of LeMans #3; Joshua Modlinger, owner of the 1956 Maharani; and Carla Tynes, my legal assistant who under careful guidance has become a Cadillac expert. Cadillac is still "The Standard of the World"!
Below are some more pictures from the show weekend
Photos by Alan Clark, Daniel Jobe, Mike Jones, Dan Reed and Roger York