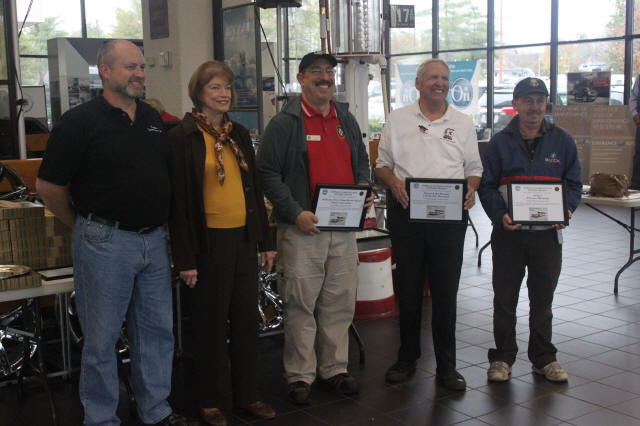 Professional Pride owners with their Certificates of Appreciation
Last year, it was snow on the night before our Dazzling DeVilles event, in October! This year it was Hurricane Sandy bearing down on us. Although the storm was approaching the Mid-Atlantic, it did not begin to arrive until early Sunday evening. The rain held off for the entire Professional Pride event on Sunday October 28, 2012 at Capitol Cadillac. For the owners of the 39 cars in attendance plus the spectators who attended, the quality of vehicles, not quantity of vehicles was their reward. We didn't have many professional cars on the show field, but we did have some beautiful examples in our showroom including Jay Donaldson's 1941 Cadillac Eureka Carved Side Hearse, Steve Lichtman's 1970 Cadillac Miller-Meteor Ambulance, Daniel Jobe's 1973 Cadillac Series 75 Limousine (used by past First Lady Pat Nixon) and Scott Milestone's 1996 Cadillac Fleetwood Limousine.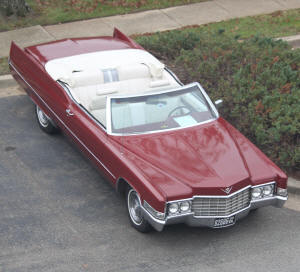 In addition to the stellar vehicles in the showroom, the show field had really fine cars, too. The one that I want to mention first is David Fields' 1969 deVille Convertible (pictured left), not because it was the most original or the nicest restored vehicle, but because David drove it to the show with the top down and displayed it that way the entire show. Take that Mother Nature! But on a more serious note, our prayers and thoughts go out to all of our fellow CLC members and their families who were affected by Superstorm Sandy.
Our keynote speaker Gregg Merksamer, noted Professional Car historian who was planning to drive from Warwick, NY the day before the show, was unable to attend. He felt badly about it but it was the correct decision considering that he would have had a five hour plus drive after the show to return home, possibly in the middle of the storm. In his place, George Hamlin, one of the founding fathers of the Professional Car Society and a local Maryland resident, delivered the speech on his behalf (pictured below). Here is an excerpt: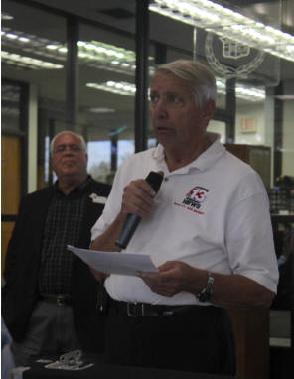 "Turning to the vintage funeral vehicles, limousines and ambulances that are on display today, our appearance here will be a true success if we've convinced you to focus, first-and-foremost, on the fine craftsmanship and aesthetic sense applied to Cadillac's Commercial Chassis by such legendary coachbuilders as Superior, S&S, Miller-Meteor and Eureka.

Close as we are to Halloween, you've hopefully noticed there's not a single PCS car out there shown with a casket, or a skeleton, or cobwebs, or any other sort of macabre miscellany. Displaying them might make you forget how the specialists behind this coachwork, devoted to satisfying individual customer tastes and requirements regardless of cost, time or difficulty, are maintaining carriage trade traditions that most auto enthusiasts assume were lost forever when the "Golden Era" of custom-bodied passenger cars came to an end in the 1930s.
This advocacy of authentically-restored and respectfully-presented vehicles was, in fact, the prime motivator behind the PCS' 1976 founding by a pair of Maryland Packard enthusiasts named Dwight Heinmuller and George Hamlin, on the grounds it would encourage a wider acceptance of hearses and ambulances in old car hobby circles and compel the AACA to lift a ban on their display at the big fall Hershey Meet and other judged events that lasted almost twenty years.
In the two decades I've served as PCS Publicity Chair, it's been a great source of pride to me that our high standards have made us the club of choice for funeral and EMS professionals who worked proudly with these kinds of cars when they were new, to the point our total membership doubled in this period to more than 1,100 individuals in a dozen different countries.
Even if the rare, magnificent cars they own are incentive enough for you to attend a PCS event or visit our official website at www.professionalcarsociety.org for the first time, the thing I trust will turn you into a regular is the same thing that likely keeps you coming back to Cadillac & LaSalle Club gatherings again and again.
Whether or not it has something to do with many of them hail from service professions where the top priority is assisting those in need, PCS people are among the most friendly, caring and generous you are likely to encounter in the old car hobby, and I hope this won't be the last opportunity we're given to demonstrate this to you."
Like our other fall theme car shows, the weekend began with a Saturday day event followed by a dinner for out-of-town guests hosted by Richard Sills and Shelley Chadick. This year was no different. The Saturday day event was a tour and car show to the Baltimore Streetcar Museum (BSM) that was coordinated by Chuck Piel, the PCS Mid-Atlantic Chapter Bee Hamlin and the CLC Valley Forge Region's newsletter editor John Barry.

The weather forecast affected this event also as only about a dozen people attended, including John Barry from New Jersey. Two local PCS cars took part in the event, one of which was George & Bee Hamlin's Studebaker and Steve Lichtman's 1977 Cadillac Ambulance. Steve was not pre-registered to attend Sunday's Professional Pride show but his participation in Saturday's event influenced his decision to attend on Sunday, and we are very grateful as Steve's Miller-Meteor was the only ambulance in attendance. Steve, pictured below left with Ladies Choice Award presenter Barbara Cummings, won two awards for his 1970 Cadillac Miller-Meteor Ambulance (see full list of winners below).