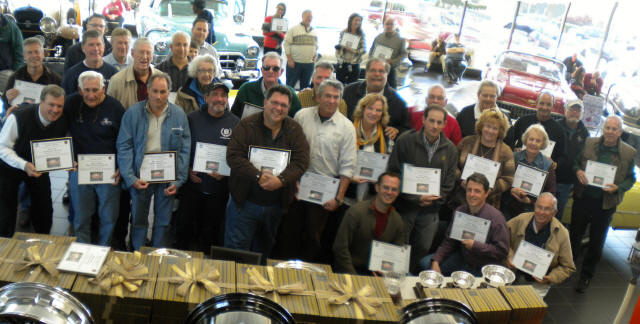 Colossal Convertibles owners with their Certificates of Appreciation
After back-back years of historic inclement weather that impacted our fall car show, we finally had a more typical fall day: cool, dry and beautiful. As a result, we were rewarded with 93 cars in attendance for our Colossal Convertibles event! The event honored the late Henry Ruby, long-time CLC Potomac Region Car Show Coordinator, and the 60th anniversary of the 1953 Eldorado. Specifically, Cadillac and LaSalle roadsters, phaetons, open cars and convertibles from all model years were honored at the show and the turnout was fabulous. From a 1929 Cadillac 341-B Dual-Cowl Sport Phaeton to a 1993 Cadillac Allante, over 40 convertibles were on display, including Henry Ruby's 1958 Eldorado Biarritz and Scott Milestone's factory-built "super-charged" 1953 Eldorado and 1953 Cadillac LeMans concept car.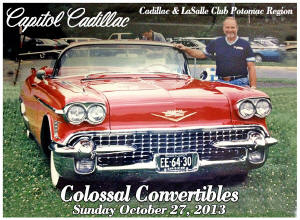 The car show dash plaque was especially appropriate because it honored the late Henry Ruby, a devoted club member who played a key role for many years in these shows at Capitol Cadillac, along with the 1958 Eldorado Biarritz that Henry drove for as many years. With proceeds from the sale of items donated by Scott Milestone and Jay Adams, the club has commissioned artist Dan Reed to paint this image for display at future car shows at Capitol Cadillac.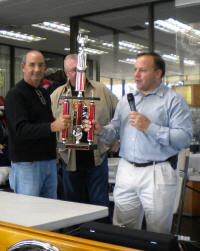 Another fine person who appreciated Colossal Convertibles was Bart Mitchell, who unfortunately passed away just three weeks prior to the event. Bart was a fine gentleman and a real class act. He owned, among many other collector cars, a national-award-winning Azure Blue 1953 Cadillac Eldorado (pictured below) that he was kind enough to display at our show year after year. His son Jim and Bart's long-time friend Mike Jones made sure that the car was part of Colossal Convertibles. Bart's car was a sure-fire Best of Show winner, but for the last several years, Bart insisted that his car be entered for display only, so that others could win the top awards that otherwise may have gone to him. Pictured above Dan Ruby (left) presents Mike Jones (middle) and Jim Mitchell (right) the Henry S. Ruby Memorial Award to honor Bart Mitchell.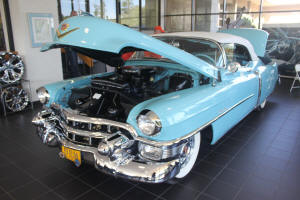 Like other fall theme car shows, the weekend began with a Saturday evening dinner for out-of-town guests. The dinner was held at the host hotel, the Hilton Garden Inn, and to be honest, the food and service was less than stellar. We apologize to our dinner guests. For next year, we plan to try a restaurant in the area that a few of us dined at Sunday evening after the show with much better results. Also by Saturday evening, the showroom at Capitol Cadillac was ready with most of the cars already in place for Sunday's show.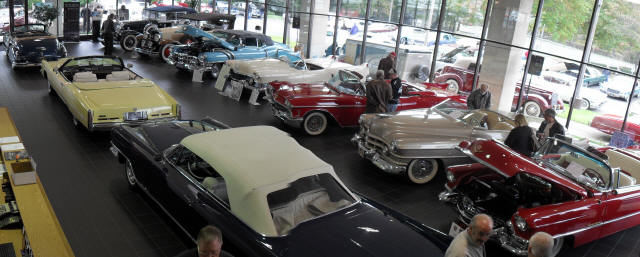 Six decades of Colossal Convertibles
On Sunday morning, a few more cars were added to the showroom to result in a fine display of convertibles spanning six decades. As the case with previous shows, the crew of volunteers arrived by 8:00 AM to register and park the cars. Of the 93 cars that participated, 58 were from Maryland, 17 from Virginia, nine from Pennsylvania, five from the District of Columbia, three from New Jersey and one from Delaware. By the time DJ Mikey Veilleux of Music Madness played the National Anthem, which has become a tradition at our show, at 10:00 AM to officially open the show, the showfield was just about full (pictured below). Participants who arrived shortly thereafter wondered what the official start time was because it looked like the show had been going on since the night before with the sizeable number of vehicles already in place.

Following the Potomac Region's current practice, the judging was done by the owners of the cars registered in the show (peer judging), except for the Dealer's Choice Award and Car Show Coordinator Award. Throughout the day, many of the owners could be seen walking among the cars with their pencils and ballots in hand. When the deadline for voting was reached, over 75% of the attendees eligible to vote had submitted a ballot.
Past CLC President Richard Sills (pictured right), who served as the Master of Ceremonies, began the awards presentation by paying tribute to the Colossal Convertibles (below is an excerpt).
"When I was growing up, if there was any car that epitomized a person who was not only successful, but also had a special flair, or a zest for living, it was a Cadillac convertible. You could put the top down, see everything around you, and turn heads in the process. You could enjoy the warming sun in the daytime, or look up at the stars at night, while driving one of the finest cars on the American highway. If you were an entertainer, or a sportsman, or a night club owner, or a man-about-town, you probably drove a Cadillac convertible. And I don't mean to suggest that only men drove Cadillac convertibles. Shortly after I moved to Washington, I used to see a beautiful blonde woman driving a new 1971 Eldorado convertible, red with a white top and white leather interior. The car had a Maryland vanity plate with two letters on it -- "NO". I never found out whether those were her initials or whether she was answering in advance a question that she expected to be asked -- but when you drove a Cadillac convertible, you expected to be noticed. Yes indeed, a Cadillac convertible was truly the cat's meow of automobiles."
After the introductory remarks, the 50/50 drawing and special auction of the one-week stay of Scott Milestone's beach home took place. Thanks to Scot Minesinger for selling the 50/50 raffle tickets and to Bob Norrid who won and donated his entire portion back to the club. At the end of the auction for the one-week stay at Scott Milestone's beach home, Scott graciously offered the beach home to the top-five winning bidders who were Joe Palmore, Daniel Jobe, Jack McClow, Tom Alsop and Vince Taliano. Scott also donated a crystal ring tray that was auctioned to the high bidder. As mentioned, proceeds from the auctioned items will be used to support the membership locally and to fund a Dan Reed illustration of Henry Ruby and his '58 Eldorado Biarritz that will be on display at future shows.
Following the drawing and auction, Richard announced the winning cars while Daniel Jobe presented the awards. In addition, Daniel presented his choice for the Dealer's Choice Award and Holly Smith announced the Ladies' Choice Award donated by Brenda & Jim George. Lastly, Richard asked for the audience's help in identifying the car that was registered and driven – not trailered – the longest distance to participate in the show.
CLASS

1st PLACE WINNER

2nd PLACE WINNER

3rd PLACE WINNER

Class A:
1902 – 1949 Convertibles

Charles B. Gillet
1931 Cadillac Series 452A
V-16 All-Weather Phaeton
Baltimore MD

Rob Robison
1947 Cadillac Series 62 Convertible
Yorklyn DE

Orin Kerr
1938 LaSalle Series 50 Convertible Coupe
Arlington VA

Jon & Jake Quartner
1941 Cadillac Series 62 Convertible
Reisterstown MD

Class B:
1950 – 1959 Convertibles

Scott Milestone
1953 Cadillac Eldorado Super-Charged
Germantown MD

Scott Milestone
1953 Cadillac LeMans
Germantown MD

Bob Brown
1959 Cadillac
Series 62 Convertible
Leesburg VA

Bob Crimmins
1955 Cadillac Eldorado
Manalapan NJ

Jerome Gross
1956 Cadillac
Series 62 Convertible
Silver Spring MD

Class C:
1960 – 1969 Convertibles

Sam Tomasello
1967 Cadillac DeVille Convertible
Elizabeth PA

Art & Jan Archambeault
1963 Cadillac Eldorado
Harrisburg PA

Charles Dodd
1964 Cadillac Eldorado
Baltimore MD

Ron Renoff
1968 Cadillac DeVille Convertible
Severna Park MD

Class D:
1970 – 1979 Convertibles

George & Rita Boxley
1973 Cadillac Eldorado Convertible
West River MD

Ronnie Hux
1974 Cadillac Eldorado Convertible
Avondale PA

R. Scot Minesinger
1970 Cadillac DeVille Convertible
Fairfax Station VA

Class E:
1980 – Current Convertibles

John Lauria
1985 Cadillac Eldorado Biarritz Convertible
Baldwin MD

Class F:
1902 – 1949 Closed Cars

Frank Hines
1939 Cadillac Series 60 Special
White Plains MD

Douglas Jemal
1940 LaSalle Series 40-50 Coupe
Annapolis MD

Class G:
1950 – 1960 Closed Cars

Tim Reed
1958 Cadillac Coupe DeVille
St Mary's MD

J. Roger Bentley
1955 Cadillac Coupe DeVille
Brinklow MD

Nasser Almasary
1957 Cadillac Series 62 Coupe
Chantilly VA

Class H:
1961 – 1970 Closed Cars

Jerry Gordon
1961 Cadillac Short Deck Sedan DeVille
Pikesville MD

Bill Hilliard
1969 Cadillac Eldorado
Silver Spring MD

Tom Alsop
1968 Cadillac Coupe DeVille
Fairfax VA

Class I:
1971 – 1989 Closed Cars

Joe Palmore
1978 Cadillac Eldorado Biarritz
Rockville MD

Lynn W. Gardner
1975 Cadillac Sedan DeVille
Arlington VA

Eugene McCoy
1977 Cadillac Eldorado Biarritz
Baltimore MD

Class J:
1990 – Current Closed Cars

Jim Hartnett
1992 Cadillac Brougham
Kensington MD

Ron Neff
2006 Cadillac DTS
Alexandria VA

Jeff & Nola Gurski
1996 Cadillac Fleetwood
Potomac Falls VA

Class K:
Modified Vehicles

Greg Bastien
1960 Cadillac Series 62 Sedan
Potomac MD

Scott Milestone
1951 Cadillac Series 62 Convertible
Germantown MD

Dan Arnold
1967 Cadillac Coupe DeVille
York PA

Class K:
Professional Cars

Jim Spina
1941 Cadillac Series 75 Five Passenger w/Divider Window
Edgewater MD

Ati Kovi
1994 Cadillac Fleetwood Presidential Limousine
Potomac MD

LADIES CHOICE WINNER

Byron & Alida Alsop
1929 Cadillac 341-B Dual-Cowl Sport Phaeton
Oak Hill VA

BEST PRE-WAR (1942 and Earlier)

Byron & Alida Alsop
1929 Cadillac 341-B Dual-Cowl Sport Phaeton
Oak Hill VA

BEST POST-WAR
(1946 to Present)

Scott Milestone
1953 Cadillac Eldorado Super-Charged
Germantown MD

BEST OF SHOW – OVERALL

Charles B. Gillet
1931 Cadillac Series 452A V-16 All-Weather Phaeton
Baltimore MD

DEALER'S CHOICE AWARD

Byron & Alida Alsop
1936 Cadillac Series 85 V-12 Fleetwood Convertible Sedan
Oak Hill VA

LONG DISTANCE AWARD

Frank Tomasello
1964 Cadillac Fleetwood
Irwin PA

HENRY S. RUBY MEMORIAL AWARD

The Family of Barton S. Mitchell
1953 Cadillac Eldorado
Brooklandville MD